As you may know from social media, I have secured a place for my second visit to Ulverston in Cumbria.
My preparations for the show are well under way – last year I learned just how much work goes into it for exhibitors. Everything from vinyl signs/text to dress the stand, to floor browsers for unframed prints. I'm currently printing price labels and making 'Second Chance' greetings cards. These are made from pieces of prints that were not good enough to make it to be framed or mounted for sale. Instead, they were torn into shapes and attached to card fronts, before being stamped on the back and packaged for sale.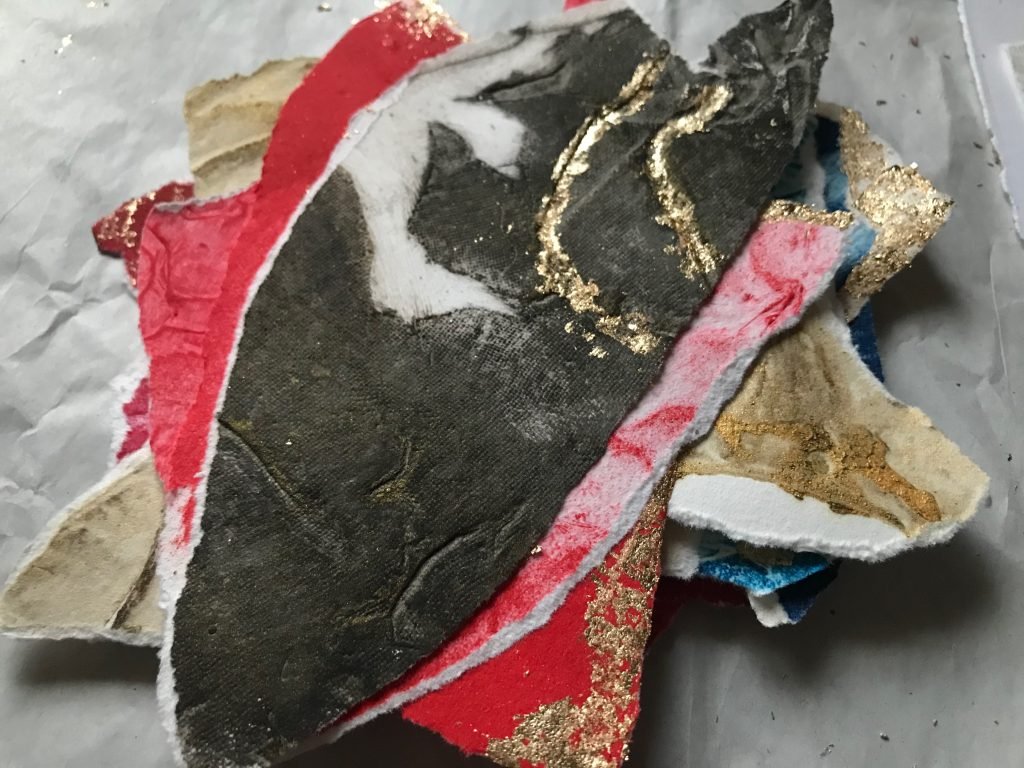 Pieces of torn prints, destined for 'Second Chance Cards'
Printfest 2017
As I discovered last year, Printfest is a wonderful show. It attracts visitors from across the country. They often stay in the area for a couple of days and visit the show across the weekend. Visitors are knowledgeable, enthusiastic and are prepared to buy, which for me, makes this a unique show. I love chatting to people about how my work has been created – I show printing plates and plate materials on my stand. Also, Ulverston is a very interesting 'arty' town, full of interesting shops and famous as the birthplace of Stan Laurel, and it's just half a mile from the sea at Morecambe Bay.
I can't wait to go! Alongside the very real sales opportunities, it's a great chance to catch up with fellow printmakers, many of which, away from Printfest, I only connect with via social media.
If you're planning to go, I'd love to meet you. I think we'll be allocated stand numbers in early April, so I'll post about that in due course.
Printfest
Coronation Hall
County Square
Ulverston
Cumbria LA12 7LZ
Saturday 5th May, 10-5pm
Sunday 6th May, 10-4pm.
Admission £5 (includes catalogue)
Tickets go on sale from 10am Saturday 5th May
Find all my posts about my print stories on Twitter at: #artprintstories