After my visit to Tate Modern last month and my resulting thoughts around how I might 'escape' the two-dimensionality of my art form, I have hit upon an exciting idea to try to make it a reality.
Another inspiration behind this idea is the work of artist David Rodriguez Caballero. In his work, aluminium sheet is folded and creased, with individual planes or surfaces often coated in a single, bold colour. This selective colouring, along with the patina and tones of the metal surface is simple yet stunning.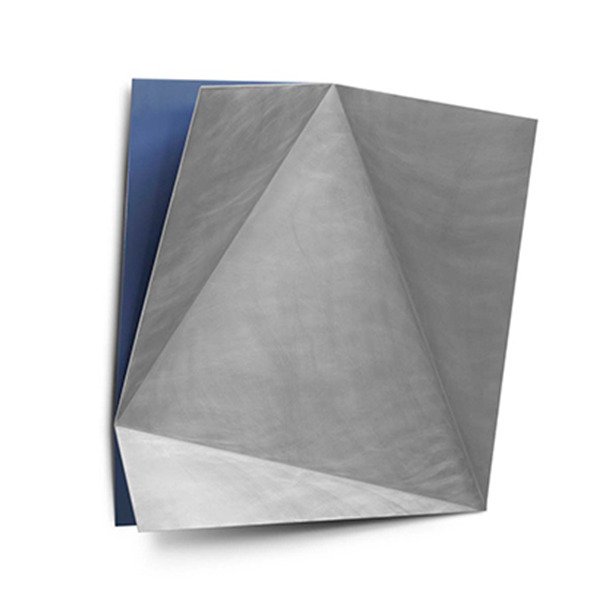 Above: sculptures in metal by David Rodriguez Caballero
Recently, when trying to print a plate at slightly too heavy a pressure, the protective newsprint paper gets caught under the press roller and emerges with a fascinating range of creases and folds. This immediately sparked an idea. I found some spare pieces of thick printmaking paper (Fabriano and Somerset) and began scoring, creasing and folding it into asymetrical shapes with a base, making it capable of becoming a free-standing object or sculpture.
Above: my paper creasing and folding experiments
I really think there is something in this. The sections formed in the surface of the paper catch the light in interesting ways, which change as the object is viewed from different angles. This could be exploited by creasing the paper prior to printing. Then, small-scale sculptures could be displayed on plinths, or larger versions placed on the floor or hanging from a ceiling. In any of these examples, this approach would allow people to move around the piece, experiencing an ever-changing view of the work.
My next step will be to pre-crease some paper and print some tests.
Find all my posts about my print stories on Twitter at: #artprintstories