As an extension to the Small Print series I've been working on for the last couple of months, I've been using acrylic gels on small printing plates (100mm square) and getting some very interesting prints as a result. By simply working into the gel – smearing, carving and pushing it around with plastic tools – it has allowed me to move even further into abstraction. Also, it has enabled me to obtain really deep embossings into the paper, giving some of the prints an unworldly, fossil-like quality.
Below are two prints from one of the most recent sets of plates.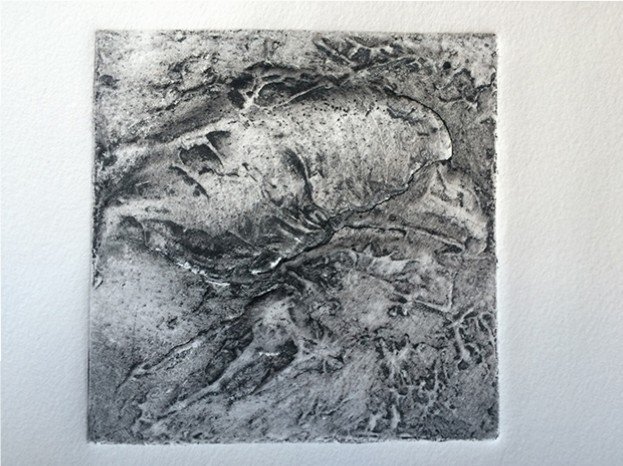 The first shows almost a hairline crack or line on a diagonal through the centre of the print.
In the second print, the line is thicker and more pronounced, the embossings appear to be deeper and what had been fine needle-width holes are wider and darker.
These anomalies or 'happy accidents' are endlessly fascinating to me, and are a direct result of the materials used and how the plate is uniquely inked for each impression. I like the fact there is no 'right' or correct print here. The only thing in my mind as I peel the paper away from the plate is 'is this interesting?'
Other prints from this plate produced even more differences. I now think that the idea of anomalies could form the basis of a theme for my upcoming exhibition at The Ropewalk, Barton upon Humber in September.
[spacer height="20px"]
In the meantime, please have a look at a filmed introduction on my printmaking, shot at The Ropewalk earlier this year. You can see it on:
You Tube https://youtu.be/zU8fnbvyJIw
Vimeo: https://vimeo.com/152998998
Follow the story of the exhibition at: #Anomalies16
Find all my posts about Art Printworks stories on Twitter at: #artprintstories