I thought that I had made up my mind on the images for the all-important back wall of my exhibition. I was going to use one of the fossil-like plates, so I spent an afternoon in the Print Room at the University of Lincoln, ready to try the plate shown below.
The plate printed well, but I wanted a quality that was far greater and enigmatic than 'good' or 'ok'. On a whim, I revisited one of the crescent moons printed a few days earlier. I realised that the variety of materials and textures had such huge potential, and that I could exploit this for use on that wall. So, I got to work on testing the six plates…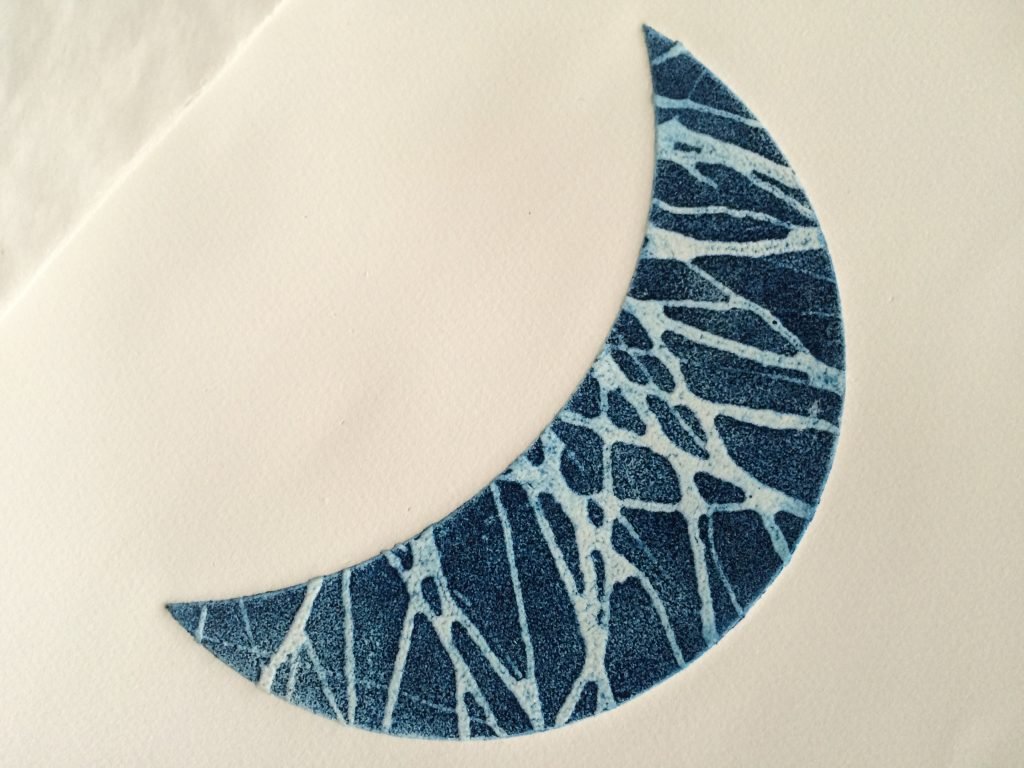 The results were very encouraging. The combination of the two blues used and the deep impressions in the Somerset paper really made me smile when I saw the prints. Most importantly, multiple prints produced subtle differences in the patterns – interesting and intriguing 'anomalies' that embodied the title of the exhibition. I haven't shown prints from the chosen plate here, as I want to save that surprise for the show!
So, for that tricky back wall display, it's decision made!
[spacer height="20px"]
In the meantime, please have a look at a filmed introduction on my printmaking, shot at The Ropewalk earlier this year. You can see it on:
You Tube https://youtu.be/zU8fnbvyJIw
Vimeo: https://vimeo.com/152998998
Follow the story of the exhibition at: #Anomalies16
Find all my posts about Art Printworks stories on Twitter at: #artprintstories