Tomorrow, I'll be travelling to London for the Press Night of the 2018 Woolwich Contemporary Print Fair (WCPF). It will be the first time that my work will be on show there. Also, I'm really pleased that one of my abstract prints was selected.
The fair will feature over 350 specialist artists and exhibitors, and is the only fair in London to deal solely in contemporary printmaking. It is the largest of its kind in the UK and is set in the impressive former carriage factory at the Royal Arsenal in Woolwich. Curated by Brocket Gallery, London, WCPF will show an incredible range of prints for sale and exhibitors with an unsurpassed knowledge of their craft, interactive demonstrations and workshops. Over four days, there will be a programme of talks and tours, and visitors of all ages will gain an insight into the practice of printmaking and what to look for in selecting a print. WCPF appeals to both longstanding collectors and those looking to buy their first original artwork.
Every aspect of printmaking – from etching and lithography, to woodblock and screen-printing – will be celebrated. It is the only London show where exciting, emerging talent sits alongside established practitioners such as Chris Ofili, Paula Rego and Norman Ackroyd RA.
Last week, I was in London delivering my framed print. It was exciting just to see the vast space, with people preparing the show build. Tomorrow, I will attend the Press Evening, an invitation-only event for the arts press journalists. It will be an invaluable opportunity to mingle and chat to specialist journalists and get some views on my work.
Preparations for the Woolwich Contemporary Print Fair at the Royal Arsenal
So, here is my piece for the show…
Island II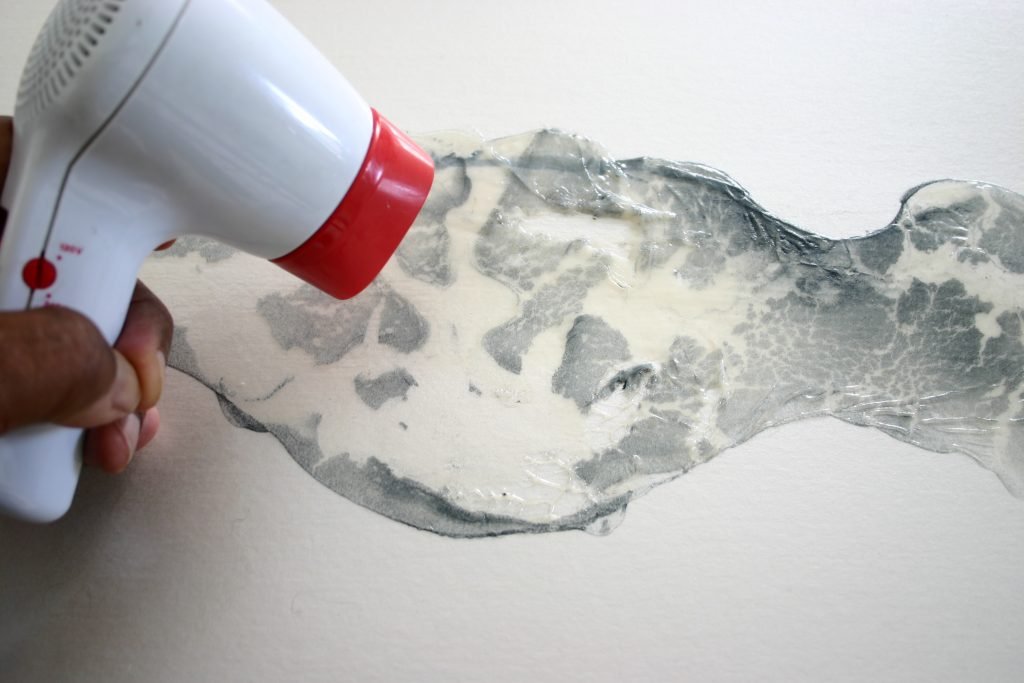 An example of the carborundum/varnish technique. The mix blisters when heat from a hairdryer is applied.
Island II is a large print (600mm across) that was created with one of my trademark 'pours'. First, the shape was sketched, before being accurately drawn in a graphics program. It was then cut out of my usual 1.5mm birch plywood using a laser cutting machine at the University of Lincoln. Then, varnish was poured over the surface straight from the tin, before being sprinkled with carborundum powder. The image above shows the technique in action, as used on a different, much earlier print.
Tomorrow, I'll post some pictures live from the Press Night!
Find all my posts about my print stories on Twitter at: #artprintstories